The following letters from (names withheld here) are being circulated amongst women religious and by fellow Dominicans in the US; both are meant for all who are praying for these Christians and I wanted to share them here. I ask that you continue to keep the Sisters and of course all our brothers and sisters in Christ in Iraq and other places in the Middle East in your prayers. The threat of martyrdom and the reality of heroic witness is very real in our own times. (A note about names. Though these were originally included it is important that they be withheld as a prudential matter.)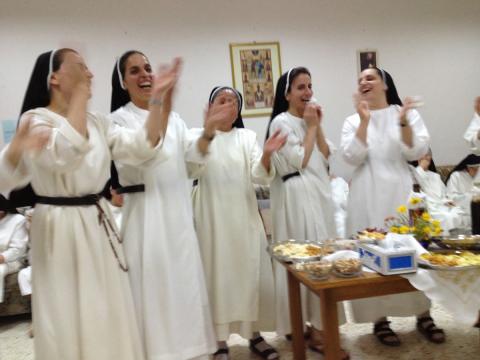 Dominican Sisters in happier times (2013)
Dear Sisters, Brothers and Friends,
We would like to write an update, about the situation in Karakush- Iraq. As you probably heard there has been some unrest in the area.
First of all, Karakush- Baghdeeda is 30 km north east of Mosul. There are about forty thousand Christian people living there. It is the largest Christian community in Iraq. Yesterday, the 25th of June, some combat began between ISIL and the Kurdish army, which started about 4:00 pm and has not stopped since. The fighting forces stood on opposite sides of Karakush, shooting cannons at each other, in the middle of this combat were civilian homes.
Most people left and sought refuge in the towns near Karakush, other cities like Duhok and Erbil, and surrounding areas. In fact, there are less than a hundred left, including the bishop and some priests in Karakush. People are so scared; they have left the town, leaving everything behind. They don't know where to go or when they will be able to return to their homes, if that ever happens.
Concerning the sisters (Dominican Sisters of Saint Catherine of Siena), we all left today as of June 26 and we were among the last people to leave. This is our second time leaving our home in the past three weeks. We are in a safe place in our convents in different locations. Thanks be to God. We have been visiting some people who had nowhere to go and they were put in nearby schools. They left with very little and they have almost nothing. The church is providing food and mattresses to sleep on in the public schools.
The situation is very difficult. All the negotiations failed between the two parties. The government is not taking part in anything. We don't really know who is responsible for what is happening. The media is not saying anything about the situation, which is really unfair. As of now, we have learned that the ISIL and the Kurdish army have started fighting again, after they have stopped for few hours giving time for people to leave the town.
We ask you to pray for us. It is hard to pray when you live in such a volatile situation, but we believe in your prayers.
Prioress and Dominican Sisters of Saint Catherine of Siena –Iraq.
Dear Sisters and Associates,


I received an email from our Sister (name withheld) this morning, sharing the terribly distressing news that our Dominican Sisters of Iraq had to flee from Qaraqosh this morning, seeking safety in the north. Sister (name withheld) had just spoken with her Prioress, (name withheld here), who had remained behind with one other Sister and was just preparing leave. Qaraqosh is the village east of Mosul where the Congregation had just started to build a new Motherhouse, after being forced in 2006 to abandon the Motherhouse in Mosul they had called home since 1952.


Yesterday, Qaraqosh underwent shelling by mortars from 2:00 p.m. until 2:00 a.m. by Sunni tribes assisted by troops from the Islamic State in Iraq and the Levant (ISIL), killing and wounding many. The Kurds have been expanding their boundaries into the Nineveh Plain, claiming Qaraqosh and other villages. Nearby Sunni tribes are now attempting to take back that territory, which the Peshmerga, armed Kurdish fighters, are defending.


Qaraqosh is still held by the Peshmerga, but they have been given an ultimatum by ISIL to withdraw their troops by 7:00 p.m. today or face another assault. Caught in the crosshairs of the fierce Sunni-ISIL/Kurdish battle, all but 5 percent of the residents of Qaraqosh have now fled from their homes, including our Iraqi Sisters and their families, to Kurdish towns of Erbil, Ankawa, and Arqa, among others in the north. The Syriac Archbishop, John Peter Mouche, remains in the city with a few priests. He conveyed these details to one of the Dominican friars in Iraq who shared them with Sister Nadiya and others.


Sister (name withheld here) also said that her whole family who had lived in Qaraqosh have also fled to northern Iraq. I know we are keeping all of them in our thoughts and prayers.